Art Macabre are delighted to be able to announce a new collaboration with Historic Royal Palaces, creating together a series of after-hours drawing events at the Tower of London. View our trailer video here
Drawn at the Tower with Art Macabre
After a successful series of Spring events, we will be taking a break over summer. Drawn at the Tower with Art Macabre will return this Autumn 2016. Dates for your diary are here. Tickets and full information on event themes on sale here.
AUTUMN/WINTER 2016
12 September / 11 October / 16 November / 12 December 2016
6.30-9pm
Tickets are between £20 to £24 (concessions see website)- block booking discounts also available. All drawing materials, paper and a drink included in the ticket price.
Blood and Jewels (with Kika von Macabre and Hysteria Machine)
Tuesday 11 October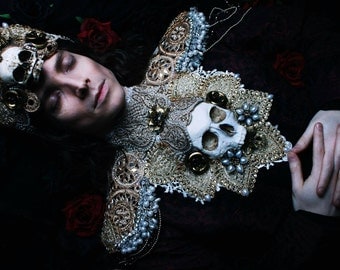 Explore the myths and legends surrounding some of the world's most fabulous jewels in this glittering after-hours event at the Tower of London; such as the brazen attempted theft by Colonel Blood. Sketch contemporary fantastical crowns by designer maker Hysteria Machine and capture Kika von Macabre in all her glory in the Medieval Palace at the Tower of London. Draw a skull-faced catacomb saint bedecked in glistening gold and pearls. You will be dazzled!
*You will not have access to the Crown Jewels exhibition as part of this event*
Tales of Martyrdom
Wednesday 16 November
Discover the martyrdoms of four religious rebels in the chapel of St Peter ad Vincula. Remember Guy Fawkes, and hear the tales of Sir Thomas More, Anne Askew and Margaret Pole, all who lost their lives in the pursuit of the freedom to express their religious beliefs. With guest artist Lozzy Bones capture their bold portraits in the chapel's crypt.
Echoes and Shadows
Monday 12 December
Explore chiaroscuro techniques with guest artist Frank Gambino. Capture shadows and sketch England's finest example of Norman architecture inside the Romanesque chapel of St John the Evangelist in the White Tower. Illuminated figures from the Tower's past will pose within its walls. This event is sure to be a magical and atmospheric drawing experience, with live music from Carmen Mon Oxide.
About Art Macabre
Art Macabre injects a lethal dose of theatricality and curiosity into drawing by creating immersive drawing events in unique spaces that bring together elements of narrative, performance, music and theatrical themes. – Read more at: http://scl.io/mZCRXaYn#gs.SqrDYls
Reviews of the events:
"Tourist attractions are much, much better without all the tourists. And if you haven't picked up a pencil in a while, then by heck, a drawing session at an empty Tower of London is the place to do it." Londonist, Rachel Stoplar, review
"I've been along to two Drawn at the Tower with Art Macabre events now and think what they are doing is very interesting.  I was somewhat pleasantly surprised by the very broad range of people who attended. It's not a judging environment, encouraging people to come and draw. I can endorse it. It's a very lovely calming and oddly meditative experience" Jonathan Ross, BBC Radio 2 Arts Show
"There's something spine-chilling about walking around the Tower of London at night. A great way to experience one of London's most iconic landmarks. Especially if you're into creepy stuff." Time Out, Kate Lloyd
About DRAWN AT THE TOWER 
Trailer to reveal more of what to look  forward to:
Drawn at Tower is a  creative collaboration between Historic Royal Palaces and Art Macabre, inviting participants to use drawing to explore stories from the Tower of London's remarkable 1,000 year history. From martyrs and macabre tales of religious rebels to glittering intrigue of jewels and crowns, each event will illuminate the Tower's dark past. Drawn at the Tower is directed and designed by Art Macabre, and delivered by a team of guest artists including Sue Dray, Frank Gambino and Lozzy Bones, to create an immersive experience. Be among the first to experience this unique after-hours drawing series at the Tower of London that will run regularly from spring 2016.
About Art Macabre
Art Macabre inject a lethal dose of theatricality and curiosity into drawing. Directed by Nikki Shaill, Art Macabre specialise in creating immersive drawing events in unique spaces that bring together elements of narrative, performance, music and theatrical themes. Since 2010, thousands of participants have enjoyed drawing from both the imagination and observation.
Accessibility
Please note access to the Tower of London site will be restricted to a different part of the Tower for each event, and does not include access to the Crown Jewels or whole site. This event involves using steps around the historic site and is unfortunately not suitable for wheelchair users or for people with limited mobility. Please note that chairs are not provided to sit on during this event. If you have particular seating or access requirements, please contact 0844 482 7777 or learning.info@hrp.org.uk